Pump Repair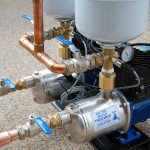 From Seal replacements to large scale commercial booster pump installations. Dbs Services can help you find a solution to any pumping problem.
Over time, your pump will fail for many reasons so to avoid any disruption or damage to your pump, it is vital that you have your pump serviced regularly, once a year at least.
We service, repair and replace all Some of the most popular water pumps include Stuart Turner Pumps, Grundfos Pumps, Wilo Pumps, Watermill Pumps and Aquatech Pumps.
We offer on and off site overhauls, maintenance and service across a broad range of pump types and manufactures and if required we can source and supply any  replacements, spares and parts.